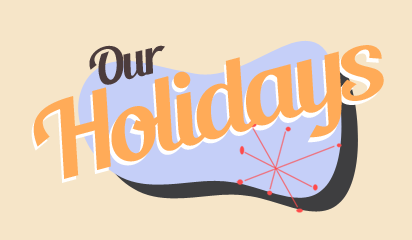 Not only are Geoff & Sue qualified dance instructors, but they also host holidays for people who have a common interest in Rock n Roll dancing.
We've had some fantastic holidays both local and overseas, and we've been to so many wonderful places including Hawaii, Alaska & Canada, the USA, Mexico, Europe and The Whitsundays. We've also hosted many cruises – including the South Pacific, the Panama Canal, the Hawaiian islands, a Mexican Riviera cruise, New Zealand and many more!
We host these holiday's on behalf of the Rock n Roll Travel Club who are an accredited travel agent based in Caloundra, Queensland!  People from all over Australia book on our holidays, and EVERYONE IS WELCOME TO JOIN US, even your non-dancing friends!  We even had one couple bring their parents along.
Numbers vary from one holiday to the next – we've had a small group of 22 on one holiday, and 83 on one to the Viva Las Vegas festival in the USA!
These holidays are always lots of fun, and its great traveling with a group of people that have common interests. Another advantage is that for those of you who may want to travel but don't feel comfortable on your own, traveling with a hosted group is ideal! Holidays include dance lessons (where possible), organised tours, and  nights out.
Scroll down for details of our upcoming holidays!
The following photo was taken on one of our holidays to Hawaii: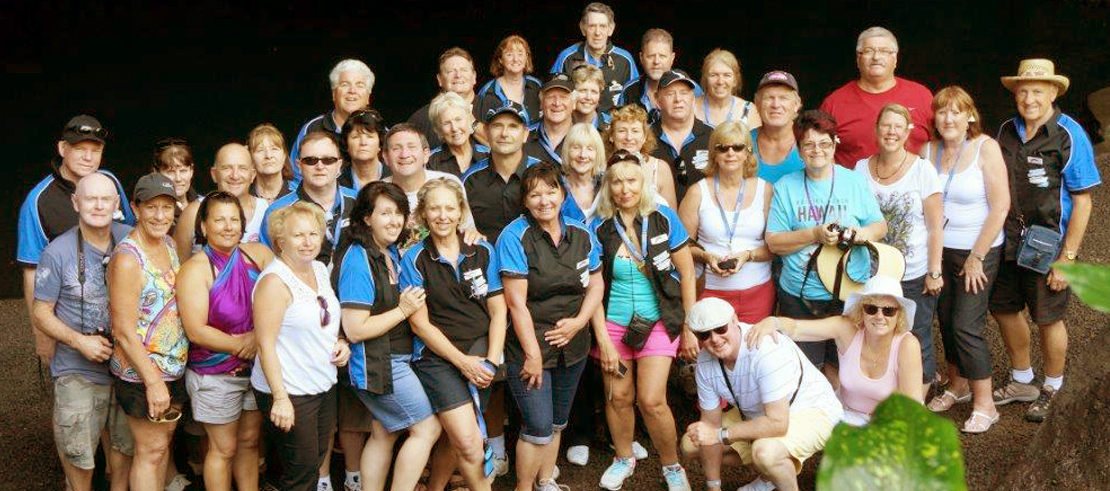 And this one was taken on our holiday to Alaska & Canada:

 

OUR NEXT ROCK N ROLL TRAVEL CLUB HOLIDAY
ROCKING AROUND ASIA CRUISE – JANUARY 2018
We invite you to join us on a fabulous Rock n Roll Travel Club holiday – 'ROCKIN' AROUND ASIA"!  EVERYONE WELCOME!
UPDATE:  As at 1st November 2017, there are only a handful of inside cabins left – there are no outside cabins available.
We are heading to Singapore for a 15 night cruise on board the Sapphire Princess and ports include:
** Nha Trang & Ho Chi Minh City in Vietnam;
** Bangkok & Koh Samui in Thailand;
** Kota Kinabalu, Penang, Langkawi & Kuala Lumpur in Malaysia;
** Sihanoukville in Cambodia;
The dates are 7TH to 24TH JANUARY 2018.
The package includes:
** 15 night cruise including all meals and entertainment;
** Return airfares to Singapore (ex Sydney);
** 2 nights accommodation in Singapore (pre cruise);
** Transfers.
If you would like a detailed flyer sent to you, email Sue at footloose@hotkey.net.au.
For bookings and enquiries, call Rachael or Darryl at the Rock n Roll Travel Club on 1800 654 899. EVERYONE WELCOME!

LAS VEGAS – 2019
We are in the throes of planning our next big holiday which will be to the Viva Las Vegas Rockabilly festival in LAS VEGAS in 2019.  The Vegas festival is held over the weekend of 18th – 21st April 2019 and is the largest Rock n Roll and Rockabilly festival held in the world.  We've been to this festival twice before, and we can tell you it's fantastic!  It  features bands from all over the world, a huge car show and hundreds of retro stalls, and so much more.  It's held in and around the grounds of the Orleans Casino in Vegas.     We are planning on being in Vegas for a week, and will also be including a cruise (possibly a Caribbean cruise) and extra days travelling in the States.
 The holiday is still in the early planning stages, but we wanted to give you an idea of what we have planned so you can start saving and planning for it.  The full dates won't be  available until the holiday has been finalised but plan on around a week before and/or after the festival dates.  We hope to bring you more information in our December newsletter.
 Remember everyone is always welcome on our holidays – you don't have to be part of Footloose to join us – in fact your friends, non-dancing family members etc are all welcome – one couple even bought their parents with them on a previous holiday!  The idea of these holidays is for a group of people with like-minded interests travelling together and enjoying other fun-loving people's company!  People from all over Australia travel with us on our holidays.  If you would like to go on the list to be kept informed of details of this holiday, please let us know and we'll add you to the list, and you'll be the first to know about it! 
CRUISE N GROOVE 2018
We will be teaching on this fabulous cruise in November 2018!  This cruise is a private charter for a week on the Radiance of the Seas with ports including Noumea and Mare (New Caledonia).  These cruises are amazing and are put on by a company called Choose Your Cruise.  We've taught on 7 of these cruises for this company and always have a ball.  Cruise n Groove features awesome Elvis Tribute Artists including Shawn Klush, Justin Shandor, Dean Z, Bill Cherry & Jake Rowley from the USA, tribute artists doing Johnny Cash, Buddy Holly, Roy Orbison!  There are over 30 artists on board including rock n roll dance bands and our own Midnight Drifters.     Brochures can be found on the desk at classes or check out their web page at:  http://cruisengroove.com.au/2018/ .  Bookings can be made by calling their office on 1300 247 371.  Please let us know if you book as the company doesn't give us that information.  That way we can try and book tables for dinner.