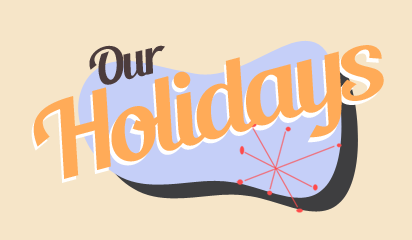 Not only are Geoff & Sue qualified dance instructors, but they also host holidays for people who have a common interest in Rock n Roll dancing.
We've had some fantastic holidays both local and overseas, and we've been to so many wonderful places including Hawaii, Alaska & Canada, the USA, Mexico, Europe and The Whitsundays. We've also hosted many cruises – including the South Pacific, the Panama Canal, the Hawaiian islands, a Mexican Riviera cruise, New Zealand and many more!
We host these holiday's on behalf of the Rock n Roll Travel Club who are an accredited travel agent based in Caloundra, Queensland!  People from all over Australia book on our holidays, and EVERYONE IS WELCOME TO JOIN US, even your non-dancing friends!  We even had one couple bring their parents along.
Numbers vary from one holiday to the next – we've had a small group of 22 on one holiday, and 83 on one to the Viva Las Vegas festival in the USA!
These holidays are always lots of fun, and its great traveling with a group of people that have common interests. Another advantage is that for those of you who may want to travel but don't feel comfortable on your own, traveling with a hosted group is ideal! Holidays include dance lessons (where possible), organised tours, and  nights out.
Scroll down for details of our upcoming holidays!
The following photo was taken on one of our holidays to Hawaii: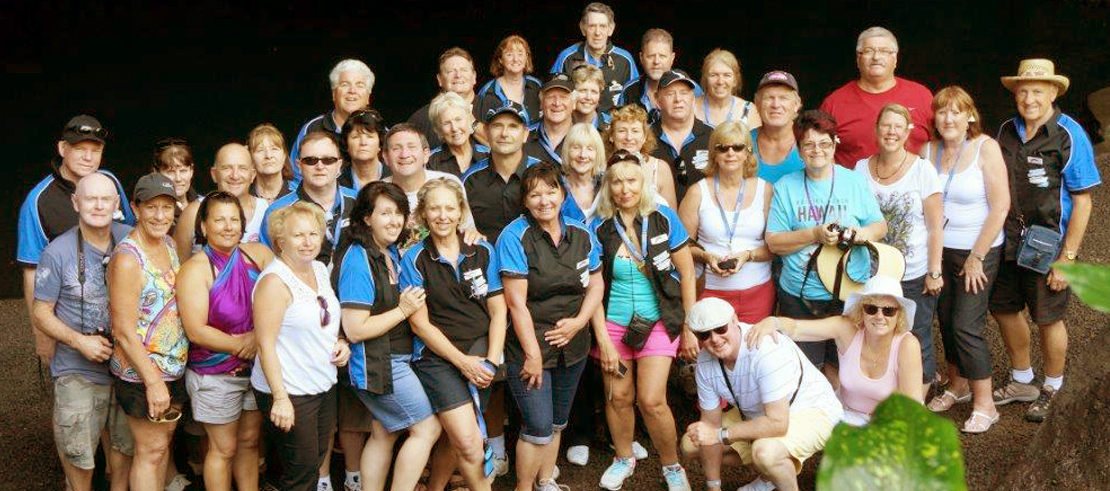 And this one was taken on our holiday to Alaska & Canada:

 

OUR NEXT ROCK N ROLL TRAVEL CLUB HOLIDAYS:
HAWAII 2017!

In September 2017, we are flying to Hawaii, staying in Honolulu then cruising back to Sydney on an 18 night cruise on the RADIANCE OF THE SEAS.  Ports are Papeete (Tahiti), Bora Bora and Morea (French Polynesia), and Picton and Wellington in New Zealand.

 NOTE – There are only a limited number of cabins available, so you need to book quickly!

 This will be a fantastic holiday and is great value for money!  Just imagine all the fun of a group holiday, laying on a deck chair by the pool and sharing a cocktail with your friends!   And the best part – all your food and entertainment is included for 18 nights!
We have a single lady who has booked and is looking for another lady to share with.  If you are interested, please email us at footloose@hotkey.net.au and we'll arrange for you to meet up with her.
 PRICE INCLUDES: 
AIR FARE TO HONOLULU
2 NIGHTS ACCOMMODATION IN HONOLULU
TRANSFERS FROM AIRPORT TO HOTEL and HOTEL TO SHIP
18 NIGHT CRUISE on the RADIANCE OF THE SEAS, which includes all meals and entertainment
 We've made heaps of friends on our different holidays over the years, so we hope you can come along and have some fun with us and meet some amazing people too!
 FOR BOOKINGS/ENQUIRIES, PLEASE CALL DARRYL OR RACHAEL AT THE ROCK N ROLL TRAVEL CLUB ON 1800 654 899
ROCKING AROUND ASIA CRUISE – JANUARY 2018
We invite you to join us on a fabulous Rock n Roll Travel Club holiday – 'ROCKIN' AROUND ASIA"!  EVERYONE WELCOME!
We are heading to Singapore for a 15 night cruise on board the Sapphire Princess and ports include:
** Nha Trang & Ho Chi Minh City in Vietnam;
** Bangkok & Koh Samui in Thailand;
** Kota Kinabalu, Penang, Langkawi & Kuala Lumpur in Malaysia;
** Sihanoukville in Cambodia;
The dates are 7TH to 24TH JANUARY 2018.
The package includes:
** 15 night cruise including all meals and entertainment;
** Return airfares to Singapore (ex Sydney);
** 2 nights accommodation in Singapore (pre cruise);
** Transfers.
If you would like a detailed flyer sent to you, email Sue at footloose@hotkey.net.au.
For bookings and enquiries, call Rachael or Darryl at the Rock n Roll Travel Club on 1800 654 899. EVERYONE WELCOME!