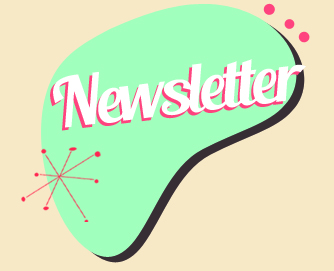 FOOTLOOSE ROCKERS
FEBRUARY 2019 NEWSLETTER
Hi guys
It's great to see so many happy, smiling faces back at classes for the year – welcome back everyone, and a big warm welcome to all of our new students who have just joined our classes!
LOST PROPERTY:   If anyone left a pair of blue glasses at the Fraternity Club on Monday 11th Feb, they are at the reception desk at the club in the lost property area.
SAVE THE DATES!  We are having a mid-year dinner dance on SATURDAY 27TH JULY at the Fraternity Club.   The band is the fabulous Rave On who played at last year's dance.   More details will be announced in the March newsletter.   We've also booked the Fraternity Club for our Christmas Party again this year – so keep Saturday 7th December free!  The band is the one and only JUKE BOX JIVE.  So put these dates in your diary now!
GLASSES:  Can we please ask that when you are at classes, would you please take your empty glasses to a table near the main door of the auditorium (or the bar at the Frat Club) and also push your chairs in.  Our arrangements with the clubs we teach in is to leave the rooms neat and tidy.  This will save a few of us cleaning up at the end of the night.  Thanks for your help with this.
BENEFITS OF LEARNING TO DANCE:    There are many benefits of learning to dance, so we thought we'd give you a reminder about some of them:
Dancing helps to reduce stress, increase energy, improve strength and increase muscle tone and coordination skills!  Learning to dance also has the benefits of making new friends and enjoying fun nights out, and also lowers the risk of Dementia.   Rock n roll dancing burns up between 830 and 1700 kj per hour – depending on the intensity.  What better way to help get fit and healthy!
GET A 5 WEEK ROCK N ROLL OR SWING COURSE FOR FREE!!!        All you have to do is talk 8 friends, work colleagues, or family members into coming to our Beginners classes!     We have Loyalty cards and they work just like a coffee club card – so for every new beginner student you bring, you get a click on your card.  When you get 8 clicks, you get your next 5 week dance course for FREE – that's a saving of $60!  So start talking to your friends and family now and bring them along with you!  Pick up your loyalty card from the desk at classes, and let us know who you brought along and we'll click your card (1 person equals 1 click).
Now read on for all that's happening at Footloose!
GENERAL NEWS
LEARN SWING LINDY DVD'S – now available!
Our new set of four Learn Swing Lindy Hop Dance DVD's are now available to purchase.  There are 12 moves plus three routines on each DVD.   There are four in the series – Beginners, Intermediate A, B and C.  The set of four is $130, or they can be purchased individually for $40 each.   
Each move is taught how we would teach it in our normal classes – showing the footwork, the hand holds etc from different camera angles.   They can be purchased at classes or by emailing us at footlooserocks@optusnet.com.au or call Sue on 0410 483 560.  They are not available on our web page yet.
Following are a couple of links to You Tube videos about them – copy the link and past it into your web browser:
CLASS INFORMATION
If you have any friends, family or work colleagues that are interested in learning to dance, would you please pass on the following information and dates for our next courses.   There are also flyers on the desk at classes, so we'd appreciate it if you would let your friends know about our classes.  You'd be surprised at the number of people who would love to learn to dance, but don't even know about our classes
ROCK N ROLL CLASSES
The new 5 week Rock n Roll courses commence on the following dates:
MONDAY 25 FEBRUARY 2019 – The Fraternity Club (Fairy Meadow), and

THURSDAY 28 FEBRUARY 2019 – Pt Kembla Collegians Leagues Club

Class times are:  6.30 – Beginners 1;  7.30 – Beginners 2A;  8.30 – Intermediate H



SWING LINDY HOP DANCE CLASSES
The next 5 week Swing Lindy Hop course starts as follows:
WEDNESDAY 27 FEBRUARY 2019, at ALBION PARK BOWLS CLUB

Class times:   Beginners 7pm to 8pm;  Intermediate 8pm to 9pm
A full timetable can be found further on.
WHAT'S ON!!
FUNDRAISER ROCK N ROLL DANCE
David Harradine was the lead singer of one of the best ever Rock n Roll bands called The Real Gone Cats.  He gave many years to the Rock n Roll scene and tragically died at a very young age.  He left behind a wife and two young children.  Unfortunately his life insurance company have refused to pay out his policy (as reported on A Current Affair).  David was a legend in the rock n roll scene, so a fundraiser is being organised to help his family get through this traumatic time.   It will be held on Saturday 16th March at Liverpool RSL starting at 7pm.   There will be 3 bands – including the current line-up of the Real Gone Cats, plus Andy and the Cruisers, and Toni & the Rhythm Cats.  The cost is $10 and all money raised will go to the family.  Tickets can be pre-purchased at the club – Ph. 02 98224555 or clubliverpool.com.au
SYDNEY ROCK N ROLL MARKETS
The next Sydney Rock n Roll Alternative Market is on Sunday 24th February.  These markets are held in and around the grounds of the Manning Bar at the Sydney University and are on from 10.00 am until 5pm.  There's a great dance floor in the Manning Bar and they have a variety of rockabilly bands.  There are also heaps of retro market stalls and hot rods on display.  Cost is $6 before 12 noon ($8 after 12).  It's worth a trip to Sydney for these markets that are held every second month. 
ROCK N VINTAGE ROLL FESTIVAL THIRROUL
This great local festival will be held this year on Sunday 10th March at Ryan's Hotel in Thirroul.  The bands are Kitty Martini and Bad Luck Kitty, and there'll also be retro market stalls and  vintage cars on display.  Entry is $5.  Starts at 10.00 am and goes until late afternoon.  Always a great festival!
KURRI KURRI NOSTALGIA FESTIVAL
This year the annual Kurri Kurri Nostalgia Festival will be held on the weekend of 30 – 31st March and is all about Rock n Roll, Classic Cars, Hot rods, Fashion, Music, Dancing and everything good about the 50's and 60's.  There's a classic car and hot rod show, over 150 retro markets stalls and food vans, lots of free entertainment, rock n roll dance demonstrations, main stage performances, bands, best dressed competitions, side show alley and much more. Plus nightly events with lots of great Rock n Roll' and Rockabilly dances at local venues.   All info can be found on their web site: http://www.kurrikurrinostalgiafestival.com.au/
CALENDAR OF EVENTS
Sun 10th Feb:         Music Cruise with the Bonnevillians;  ticketed – $50;  2pm
Fri 15th Feb:           Matchbox – Master Builders Club;  $10; Westside Rockers social; 8pm
Sat 16th Feb:          Johnny & the Easyriders – Bulli Workers;  Free;  7.30pm
Sun 17th Feb:        Midnight Drifters – Bulli Workers – Free; 2.30pm
Sun 24th Feb:        Sydney Rock n Roll Markets;  Sydney University; 
Sun 10th Mar:        Rock n Vintage Roll Festival;  Ryans Hotel Thirroul from 10am
Fri 15th Mar:           Mr James Band; Westside Rockers dance; Master Builders;  $10; 8pm
Sat 16th Mar:          Harradine Family Fundraiser – Liverpool RSL;  $10;  7pm
Sat 16th Mar:          Johnny & the Easyriders; Bulli Workers;  free; 7.30pm
Fri 22nd Mar:           Midnight Drifters;  Bulli Workers;  free;  7.30
GROUP ROCK N ROLL HOLIDAYS
EASTERN CARRIBEAN CRUISE, LAS VEGAS, MIAMI, HAWAII!

We already have a group of 34 booked on our next group holiday, so if you are thinking of joining us, you need to be quick!   For those of you who don't know, we host holidays on behalf of the Rock n Roll Travel Club.  We've been doing this now for over ten years and have travelled to some wonderful destinations and made some fantastic new friends.  The beauty of these holidays is that when travelling with our group, you'll always have people around you that you know – this is a great benefit particularly if you don't feel secure while travelling on your own, or you don't know people or you are single.  We have people from all around Australia book on our holidays and you'll quickly get to know everyone.  All our holidays are organised by the professional staff at the RnR Travel Club, which is a subsidiary of The Travel Agent at Caloundra (Qld).  The idea is for a group of people with like-minded interests (i.e. Rock n Roll dancing) traveling together and enjoying other fun-loving people's company!    
You don't have to do the whole holiday – there are 3 different options for you to choose from, so you can do all of it or any part of it.   The departure date is 4th April 2019.
We are heading to Las Vegas for a week for the Viva Las Vegas Rockabilly & Rock n Roll festival (which is one of the biggest Rock n Roll festivals in the world), we are also doing a 10 night Eastern Caribbean cruise with ports at Martinique, Barbados, Antigua, St Thomas & St Kitts, and also spending 3 days in Miami, with the option of stopping in Hawaii on the way home!   Ask for a flyer at the desk at classes, or we can email it to you. 
If you have any queries or would like to book call Rachael or Darryl at the Rock n Roll Travel Club on 1800 654 899.   We'd love you to join us on what promises to be a fantastic holiday!  Everyone is welcome to join us!
 NEXT 5 WEEK COURSE TIMETABLE

| | | | | |
| --- | --- | --- | --- | --- |
|   | COURSE STARTS | VENUE | TIME | STYLE |
| MON: | 25 FEB | Fraternity Club | 6.30 – 7.30 | Beginners 1 Rock n Roll |
|   |   |   | 7.30 – 8.25 | Beginners 2A Rock n Roll |
|   |   |   | 8.30 – 9.30 | Intermediate H Rock n Roll |
| WED: | 27 FEB | Albion Pk Bowls | 7.00 – 8.00 | Beginners Swing Lindy |
|   |   |   | 8.00 – 9.00 | Intermediate Swing Lindy |
| THURS | 28 FEB | Pt Kembla Collegians | 6.30 – 7.30 | Beginners 1 Rock n Roll |
|   |   |   | 7.30 – 8.25 | Beginners 2A Rock n Roll |
|   |   |   | 8.30 – 9.30 | Intermediate H  Rock n Roll |
ADULT CLASS PRICES

(kids under 16 half price)
| | | |
| --- | --- | --- |
|   | WEEKLY PRICE | COURSE PRICE per person |
| BEGINNERS ROCK N ROLL | $12.00 | $50/5 week course |
| ROCK N ROLL – BEG 2 & INT(one night/week) | $12.00 | $50/5 week course |
| SWING LINDY HOP – Beginners | $12.00 | $50/5 week course |
| SWING LINDY HOP  Intermediate | $12.00 | $50/5 week course |
| | | |
That's it for this month!

Sue & Geoff Routh
Footloose Rockers Dance Studio
Ph:  0410 483 560
Facebook:  @FootlooseRockers