FOOTLOOSE ROCKERS
AUGUST 2022 NEWSLETTER
Hi everyone!
Welcome to the JULY/AUGUST 2022 edition of our Newsletter!    
BREAKING NEWS!  We are having a Christmas party this year, and the date is SATURDAY 10TH DECEMBER – so put the date in your diary now!   We've been teaching for 30 years and have never missed having a Christmas party, until Covid put a stop to them!    We've missed all the fun that we usually have at our parties, and we figure everyone could do with a fun night out.   We'll be doing a Rock n Roll performance, so if you are interested in joining in, please let Geoff or Sue know.   We will start rehearsing it soon, so we'll let you know details shortly.   Our routines are always popular and we have so much fun rehearsing them.   It is preferable that you have completed some Intermediate level Rock n Roll courses and also that you have a partner that you can attend rehearsals with.   More details and ticket information will be in the next newsletter.
Here's a link to a You Tube video from 2015 when we performed a showcase routine at our Christmas Party: https://www.youtube.com/watch?v=3wL_6J5TXsc   Of course this year's performance will be a brand new one.  If you'd like to see more of the routines we've done in the past, there are other Christmas party routines up on You Tube  – just search "Footloose Rockers".   
Now read on for all the details on WHAT'S HAPPENING AT FOOTLOOSE! 
NEW COURSE INFORMATION
The next five-week courses start on MONDAY 1 AUGUST, and WEDNESDAY 3 AUGUST, and we'll be continuing to do Rock n Roll on Monday nights, and Rockabilly on Wednesday nights (see timetable below). 
SPECIAL PRICE FOR BEGINNERS!   The 5 week BEGINNERS 1 ROCK N ROLL course or BEGINNERS ROCKABILLY course is JUST $40 for either style – that's a saving of $25 over the 5 week course for each style, and that works out at just $8 per lesson!   So please let your friends and family know about this great offer!
NEW TO BEGINNERS 2!   We will be introducing a new course in Beginners 2 Rock n Roll classes.  It will be called Beginners 2C, and will rotate with 2A and 2B.    So there'll be 3 five-week Beginners Level 2 courses at the 7.30 time slot.    Some moves will be new, and others have been taught occasionally as fill-in moves in the past.    Beginners 2C will start on Monday 1st August at the 7.30 time slot, then once that five week course is finished, we will go back to Beginners 2A and start the rotation of courses again (we rotate 2A, 2B and 2C as five week courses).

Unfortunately our Rock n Roll Routine class on Wednesday nights wasn't popular, so from the start of the new course, there will be no routine class on Wednesday nights.    This means there will only be 2 classes on Wednesday nights for the time being – Beginners Rockabilly and Intermediate Rockabilly.  
Please encourage your friends/family to come along to our Beginners classes!    Singles and couples are all welcome!
    
Following is the timetable for the next 5 week courses:
MONDAY 1st AUGUST – ILLAWARRA LEAGUES CLUB (97 Church St Wollongong)
6.30 – 7.30pm – BEGINNERS LEVEL 1 ROCK N ROLL
7.30 – 8.30pm – BEGINNERS LEVEL 2C ROCK N ROLL
8.30 – 9.30pm – INTERMEDIATE E ROCK N ROLL
WEDNESDAY 3RD AUGUST – ALBION PARK BOWLING CLUB (Taylor Rd, Albion Pk)
6.30 – 7.30pm – BEGINNERS ROCKABILLY
7.30 – 8.30pm – INTERMEDIATE B ROCKABILLY
CLASS PRICES (per person)
WEEKLY PRICE

PASS PRICE

ROCK N ROLL – Beginners Level 1

$13.00

$40/5 week course

ROCK N ROLL – Beginners 2 or Intermediate

$13.00

$60 for a five-lesson pass or

$110 for ten-lesson pass

ROCKABILLY – Beginners

$13.00

$40/5 week course

ROCKABILLY – Intermediate

$13.00

$60 for a five-lesson pass or

$110 for ten-lesson pass
CHROMEFEST ROCK N ROLL FESTIVAL



Chromefest is an annual Rock n Roll festival that is held at the Entrance on the Central Coast.   Its a great festival featuring lots of bands, retro market stalls and a huge car show.  Its held over the weekend of 21st to 23rd October.  Here's the link to their web page so that you can read all about it: 

https://chromefest.org/
There are a number of different bands playing in the park during the day, but there are also ticketed events for the Friday and Saturday night.  We have booked our tickets to the following Friday and Saturday night events, so if you would like to go to those, click on the booking links:
Friday 21st Oct:    Band is JAKE & THE CADILLACS – a fantastic band from Qld;  venue is The Entrance Leagues Club;  Tickets are $36.50 and here's the link to buy the tickets:  https://www.bluesuedeshoesdance.com.au/product/chromefest-sockhop/    At the time of printing this email, there were only about 20 tickets left, so you'll need to get in quick.
Saturday 22nd Oct:   There are 2 bands playing – the Class of 58 (from the UK) and Hellcat III and DJ George Galea;   Venue is The Entrance Leagues;  Tickets are $28.00 each and can be purchased here:  https://chromefest.iwannaticket.com.au/event/saturday-night-jive-MjY4NDM
EUROPEAN HOLIDAY! 
UPDATE:   At the time of writing this newsletter, there were only a handful of cabins left on the cruise!

   We are hosting a group Rock n Roll holiday to the UK and Europe in June/July 2023! The holiday is being organised by the Rock n Roll Travel Club, and we've been hosting holidays on their behalf since 2007!
We are going to a Rock n Roll festival in Sussex on the east coast of England, called ROCKABILLY RAVE!  It will be similar to the rockabilly festivals we've been to in Las Vegas and Spain.    There'll be over 30 international Rockabilly and Rock n Roll bands, the biggest retro market stalls in Europe, a car show and so much more.   If you'd like to find out more about the festival, here is the link to the Rockabilly Rave web site, but please note that the band lineup was for June this year, but it will give you an idea of what will happen at the festival next year:      https://www.rockabillyrave.co.uk/bands.html
After the festival, we'll be doing a 15 night European River Cruise from Amsterdam to Budapest with VIKING CRUISES!  If you'd like a flyer sent to you, don't hesitate to contact us.
If you only want to do the Rockabilly Rave festival, please contact the Travel Club for a quote!
 If you have any queries or you'd like to add to the above itinerary, just do part of it or to book, call  Rachael at the Rock n Roll Travel Club on 1800 654 899 for a quote.  As always, everyone is welcome to join us on these holidays – including your non-dancing friends and relatives!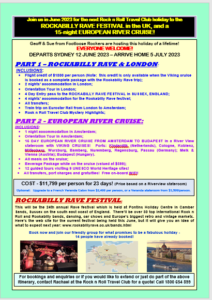 BLUE SUEDE CRUISE
We have been invited to teach dance lessons on The Blue Suede Cruise – Elvis Meets the Legends, which is happening in November 2023 and features top Elvis tribute artists from around the world, and a ton of other artists – see flyer below.   If you've never been on one of these music cruises before, you are in for a treat!  This will be our ninth cruise with the fabulous CHOOSE YOUR CRUISE company, and we can't recommend them highly enough.  Apart from shows by the huge amount of artists, there are Rock n Roll bands that play during the day around the ship and in the showrooms at night so that you can dance all day and night if you want – there's just so much to do and so many shows to see!     Register your interest to receive information on booking and Early Bird discount here:

   http://eepurl.com/h00p75

3 MALTESERS SHOW!
The '3 MALTESERS SHOW' at Albion Park Bowling club has sold out.   We have 39 going, and they are reserving 4 tables of 10 for us.   The date is Saturday 3 Sept.   I have all the tickets, so I will give them out closer to the date so that you don't lose them!   

 
ROCKIN FRIDAY DANCE!

The next ROCKIN FRIDAY dance at the ILLAWARRA LEAGUES CLUB (Church St, Wollongong) is on FRIDAY 22nd JULY, and the band is the fabulous RAVE ON!   The time is 7.30 to 11.00pm and the cost is $10 per person paid at the door.   There's a huge dance floor and a great bistro!   Please support these events to help keep live bands happening in Wollongong.   These dances are privately run events by Trevor from the Matchbox band, so if you would like any further information, please call him on 0415 923 227.   Future dates:
Friday 26 August – band is Dwayne Elix & the Engineers
Friday 23 Sept – band is The Pink Chevys
Friday 28 Oct – Mr James Band
FREE FOOTLOOSE SUNDAY ROCK N ROLL DANCES

Our next Sunday afternoon Rock n Roll dance is on SUNDAY 21st AUGUST.  Seeing as it is Elvis's 45th Anniversary of his death, we are having an Elvis theme, and we'll be having a very special guest performing LIVE!   Rick Mackaway will be performing some of Elvis's greatest hits, so don't miss out on this special night!     These dances are held once a month at Albion Park Bowling Club (Taylor Rd, Albion Park) and they are hosted by DJ Ray – and they are FREE!    Ray plays a huge selection of Rock n Roll, Rockabilly, Swing, Cha Cha and Waltz songs to keep you on the dance floor!   The time is 5.00 pm until 8.30pm.  The club pays for the DJ, so try and support these dances so that the club continues to put them on!   There's a really good bistro and a big dance floor.  Everyone welcome!    Future dates are:
SUNDAY 21ST AUGUST;   SUNDAY 25TH SEPTEMBER;    SUNDAY 6TH NOVEMBER;   SUNDAY 27TH NOVEMBER 
WESTSIDE ROCKERS DANCES
Westside Rockers hold a monthly dance at City Diggers Club, Cnr Burelli & Church Streets, Wollongong and the next one is on FRIDAY 19 AUGUST and the band this month is THE ROCKHOPPERS.   Entry is $10, and time is 8pm to 11.30pm.   If you are planning on having dinner there, it's advisable to book on 4228 8522.  Following are the dates and bands for the rest of this year:
Friday 19th August – Rockhoppers
Friday 16th September – Roc-A-Tac
Friday 21st October – Matchbox
Friday 18th November – Rockin' Mustangs
Friday 16th December – Dwayne Elix & the Engineers.
DANCE DATES:

Here's a summary of what's happening in August!
Saturday 6 AUG:         MIDNIGHT DRIFTERS at Bulli Workers;  free;  7.30pm




Friday 19 AUG:           ROCKHOPPERS at City Diggers Club for Westside Rockers;  $10;  8pm




Sunday 21 AUG:          DJ RAY dance at Albion Park Bowling Club;  FREE!   5 to 8.30pm – ELVIS THEME!




Friday 26 AUG:            DWAYNE ELIX & THE ENGINEERS;  Illawarra Leagues;  $10;  7.30pm
That's it for this month.  We hope to see you on the dance floor soon! 
Sue & Geoff Routh
Instagram:         footlooserockers