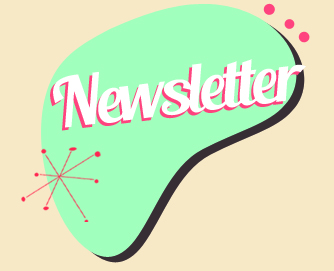 FOOTLOOSE ROCKERS
OCTOBER 2021 NEWSLETTER
Hi everyone
We hope that you, your family and loved ones are staying safe!   Lockdown restrictions are starting to lift and like you, we can't wait to be able to spend time with our family and friends again, get back to classes and be able to go out for a social dance!  We've had quite a few enquiries about our return dates, so following is an update on what's happening.  Read on for:
***  Class info;
***  A poll on whether our Christmas party should go ahead;
***  Rescheduled dates for social events;
CLASS INFORMATION
According to NSW Health, dance studios come under the category of "Indoor Recreation" and fall under the same guidelines as gymnasiums.  This means that dance classes can technically start back from 11th October, but there would be a limit of 20 people per class and everyone would need to be double vaccinated and wear masks for the whole class.   HOWEVER we won't be starting our lessons just yet.   There are a number of hurdles to overcome first, including getting approval from the clubs to resume our lessons, and also the 1 person/4 sq metre rule means it won't be possible to return to the Albion Park Bowls Club until this is reduced to 1 person/2 sq m – which is scheduled to happen from 1st December (as stated under the current "Roadmap to Recovery").     We have approached the Fraternity Club about resuming classes there, but haven't heard back from them.    Quite a few of you have suggested other clubs, and we'd like to thank you for that, however we haven't been able to contact them due to the clubs being closed.  
Unfortunately getting back to classes is a slow process considering everything has been closed up until now, so we can't give you return dates or venues just yet.   Once we get approval, we're hoping that we can run some classes before Christmas.
For those of you who paid for the full 5 week course just prior to lockdown, you will be issued with class credits to use against any classes that are held before Christmas, or you can just wait until the New Year when hopefully we'll be able to start new 5 week courses for you to use your credits.  Please note that unused credits will be valid until 31st December 2022.    We will send out another newsletter as soon as we can confirm our start dates and venues.   So keep your eye out for our next newsletter update.
FOOTLOOSE CHRISTMAS PARTY – WE NEED YOUR FEEDBACK!
If lockdown restrictions are lifted according to the NSW Health "Roadmap to Recovery", then it looks like our Christmas Dance that is planned for Saturday 11th December could feasibly go ahead, as all restrictions will be lifted on 1st December (unless things change….. again!)    We still have our favourite band on hold for it – the fabulous JUKE BOX JIVE!
However we understand that a lot of people will be dubious about going to such an event so soon after lockdown.   We are in two minds whether to proceed with it – we feel that everyone deserves a fun night of dancing that our Christmas parties are known for, particularly after the year we've all had, but on the other hand your well-being and safety is at the forefront of our decision as well.    If it did go ahead, we would restrict numbers so that the dance floor wasn't overly crowded.
Therefore could you please let us know your thoughts – if it was to go ahead, WOULD YOU GO OR NOT?   Even if you just reply to this email with a "YES" or "NO", or send a text message on 0410 483 560, or if you want to give us a more detailed opinion, we'd be grateful for your input.
We'll let you know in our next newsletter if it will go ahead or not, and also give you ticket details.
SOCIAL OUTINGS!
We had booked a couple of shows at the Centro CBD before we went into lockdown and they have now had the dates rescheduled – following are the new dates.  
If you paid for tickets to the Frankie J Holden & Wilbur Wilde show at the Centro CBD on 1st July, it has now moved to Thursday 24th March.  If you have tickets for this and now can't make it, please let us know asap so that we can organise a refund.  If you missed out on tickets and now want to go, please let us know.   Tickets are $80 each and include a 2 course seated dinner and show.  The venue is fully licensed.   We've been to a lot of shows at the Centro and it's always a great night.  Here's the link with details of the event – but if you want to go, you need to book with us and not the venue:
If you put your names down for the Swinging 60's show on 27th August at the Centro CBD, it has now been rescheduled to Friday 25th February.     Tickets are $66 and include a 2 course seated dinner.  This event has not been paid for and your payment is not due yet – we'll send out an email to you when payment is due.   Please let us know if you are still interested in going on the 25 Feb, or let us know if you'd now like to be added to the list.  Here's the link with details:
Hope to see you all soon, and don't forget to let us know what you think about our  Xmas dance party.
 
That's it for this month!

Sue & Geoff Routh
Instagram:         footlooserockers