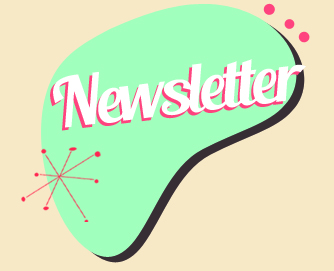 FOOTLOOSE ROCKERS
JUNE 2019 NEWSLETTER
Hi everyone!
Welcome to the June edition of our monthly newsletter.   There's a lot of NEW information in this one, so please make sure you have a read.   Statistics from the Email program I use tells me that only 31% of people actually read it – so hopefully this time that number will go up!
Winter has hit with a vengeance, and it's time to get out the winter woollies – but that's no excuse for not coming to classes.  Yes, we agree it's hard getting out the door in the winter months, but once you're at classes you'll appreciate the effort you made.  The best way to get over the winter blues is to dance and catch up with your friends! 
A famous quote from Abraham Lincoln is so appropriate for learning to dance – he once said "The best way to predict your future is to create it".   I often hear people say "Oh I'd love to be able to dance like that", well if you don't make an effort to do it, it will never happen!   So don't give up…… we all had to start as beginners – including Geoff and I (even though it was around 30 years ago)! 
Good News for those wanting to save some money!!!    We have great new PACKAGE PRICES for our classes for when you want to learn more than one style!  You'll save a heap of money, so check out the info under the heading of GENERAL NEWS!
We also have a SPECIAL PROMOTION – Bring one or more NEW BEGINNER students and get your class on the first night FREE!!  See further on for full details. 
 We are placing an order for our Black and Aqua Footloose Jackets soon – so make sure you check out the info under the CLOTHING heading, as this will be THE ONLY ORDER WE PLACE THIS YEAR!
We have SUPER SPECIAL PRICES FOR OUR LEARN TO DANCE DVD'S – including our new Swing Lindy DVDs!  See details under the heading of Learn to Dance DVD's.
Now read on for all the details on what's happening at Footloose!
GENERAL NEWS
ROCK N ROLL CLASSES TO START AT ALBION PARK
GREAT NEWS!!!   We will be starting a new 5 week ROCK N ROLL course at Albion Park Bowling Club every Wednesday night – commencing on Wednesday 12th JUNE.  Normal class times will apply – starting with Beginners 1 at 6.30pm, Beginners 2 at 7.30 and Intermediate at 8.30.  See full details further on.  This means that there will be no Swing classes at Albion Park – they are moving to Pt Kembla Collegians.
DAPTO CLASSES
Unfortunately class numbers at our venue at the Community Hall in Dapto have been very low, so we have decided to stop classes there.  It was also a really cold venue, so the last class there will be on Wednesday 5th June.  
JUNE LONG WEEKEND CLASSES
Please note that all classes at the Fraternity Club on the Queen's Birthday public holiday – Monday 10th  June – will go ahead as normal and at the usual times.    A new 5 week course will start on that night.
GET A FREE LESSON!!
We are running a promotion for the courses starting the week of June 10th – if you bring one or more new Beginner students along to classes, then your class on that night is FREE!    So start talking your friends, family, work colleagues, neighbours into coming along and you receive your lesson on that night for Free – just let us know on the night who you brought along.
This offer is valid if you bring a New Beginner to either Rock n Roll or Modern Jive (Step Rock) – if you bring someone to each style, your lesson will be free on both nights!
Flyers with class details are available on the desk at classes so please take them home or to work and let your friends and family know!  We appreciate the effort you put into bringing along new students so that we can keep our classes alive in the Illawarra!
PACKAGE DEAL PROMOTION
Here's a great opportunity for you to try a couple of different styles!  If you would like to do two or three different styles, we are offering PACKAGE DEALS for the next course (week commencing 10th June) which will make it a lot cheaper to do them. 
For example if you want to do both Step Rock and Rock n Roll, then you can do both 5-week courses for $80 or if you would like to do all three styles, the price is $120 (payable on the first night).
This offer is valid for any combination of the 3 styles we are currently teaching (Rock n Roll, Swing, or Step Rock), and also for any level (Beg 1, Beg 2 or Intermediate)
ANY 2 STYLES:      $80 FOR THE 5 WEEK COURSE (a saving of $40 on normal weekly prices)
ANY 3 STYLES:      $120 FOR THE 5 WEEK COURSE (a huge saving of $60 on weekly prices)
FOOTLOOSE FACEBOOK PAGE
Don't forget we have a Facebook page where we post great dance video clips and generally keep you up to date with what's happening on a more regular basis.  So search the following:  @FootlooseRockers and click the "Like" button. 
NOT SEEING OUR POSTS IN YOUR NEWSFEED?  With Facebook the way it is these days, a lot of people tell us that they don't see our posts – so to make sure our posts appear in your news feed, every time you see a post from us, click the 'like' button – the Facebook algorithm then acknowledges that you are interested in seeing our posts.  Try it – even with your friend's posts.  You'll see more of the posts that you want to see. 
NEXT ROCK N ROLL HOLIDAY
We're not long back from our fabulous holiday to the US, and we are already being asked what we have planned next!  At this stage we don't have plans for 2020, but our next big holiday will be a European River Cruise around April 2021!   River Cruising is amazing – and they include all Tours, Food, Alcohol and Entertainment – they are fabulous value for money!   At this stage it is still in the planning stages, and we'll let you know details once they are available.  But keep it in mind – and maybe start saving now if it's something you've always wanted to do! 
 

CLASS INFORMATION
ROCK N ROLL CLASSES
New 5 week Rock n Roll courses will start on the following dates (see complete timetable further on).
MONDAY 10th JUNE 2019 – The Fraternity Club (Fairy Meadow) and

WEDNESDAY 12TH JUNE 2019 – Albion Park Bowling Club (Taylor Rd)
 Class times are:  6.30 – Beginners 1;  7.30 – Beginners 2B;  8.30 – Intermediate C 
STEP ROCK MODERN JIVE CLASS
We are starting a new Beginners and also an Intermediate course in Modern Jive on Thursday 13th June.  Our recent Beginners class has proven to be really popular with over 20 people thoroughly enjoying learning this great dance style!   So if you want to join in, come along for our next course!
What is Modern Jive?   This style of dance originated in France and then became popular in the UK and then Australia in the early 90's.  It is a smooth and stylish partner dance, with an easy step pattern to learn.  It is a modern dance enjoyed by people of all ages.
More commonly, it is danced to slow modern songs, but it can also be danced to any music with a steady beat, from 40's Swing to Rock n Roll and top 40 chart hits. 
The new 5 week course starts as follows:
THURSDAY 13th JUNE – Port Kembla Collegians Club, Wentworth St, Pt Kembla
 6.30 – 7.30pm – Beginners;  7.30 – 8.30pm – Intermediate 
SWING LINDY HOP DANCE CLASSES
We will be continuing our Intermediate Swing Lindy Hop classes, but unfortunately we won't be doing Beginners for a while.  The next Intermediate class starts: 
THURSDAY 13TH JUNE – Port Kembla Collegians Club;   8.30 – 9.30pm – Intermediate B
LEARN TO DANCE DVD'S MEGA SALE!!
To celebrate the release of our Learn Swing Lindy Hop DVD's, we are having a MEGA SALE on all of our sets of Learn to Dance DVD's!!  CHECK OUT THESE PRICES!!!! 
Set of 5 Learn to Rock n Roll DVD's – $100 for the set of 5 (normally $160)

Set of 4 Learn Swing Lindy DVD's – $90 for the set of 4 (normally $130)

Set of 4 Learn to Rockabilly DVD's – $90 for the set of 4 (normally $130)

PLEASE NOTE!!!!   These prices ARE NOT available on our web page – they can only be purchased at classes or by emailing us at footlooserocks@optusnet.com.au for payment details or by calling Sue on 0410 483 560.    This sale finishes on 30th June 2019.   
All moves are taught the same way as they are in classes, so these are great for practicing at home!  It's just like having a private lesson in your own home, and you can go over and over each move until you master it, or look up a move that you can't remember!
CLOTHING
FEELING THE COLD?   Have you seen our students with their Black baseball style jacket with the aqua sleeves? Well, we are putting in a new order for them!
Please note we only order these once a year, so if you want one, you need to order them before 21st JUNE!  The best part is they are only $99 each!     These jackets are so warm and comfortable – you'll love them – just ask any of our students who have them! 
The price includes the large Footloose logo on the back, the small front logo and your name. 
We have some sample sizes for you to try on, and we'll be taking them to classes during the next couple of weeks.   I will need a 50% deposit when you place your order and the remainder before they are finished.   Delivery will be around 6 weeks after the order is placed – so you have around 8 weeks to pay for them! 
WHAT'S ON!!
MID YEAR DINNER DANCE
Nearly 100 tickets sold already – so don't miss out – get your tickets now!   Our annual ROCK N ROLL DINNER DANCE is on Saturday 27th JULY at the Fraternity Club in Fairy Meadow and the band is the fabulous Sydney Rock n Roll band RAVE ON.  Tickets are $55 and include a 2 course seated dinner, heaps of dancing, lucky door prizes and so much more! 
Tickets are available from the desk at classes or email us at footlooserocks@optusnet.com.au for other payment methods.   You can leave a deposit of $10 and pay your tickets off – but tickets must be paid for in full by 15th JULY.   The theme is CHRISTMAS IN JULY – so either dress up in a Christmas outfit – e.g. Elf on a Shelf, Christmas decoration, Santa or simply wear the colours of Christmas – red, green, gold, silver!   There'll be Best Dressed prizes, lucky door prizes and so much more.
DON'T FORGET!   If you have any special dietary requirements (Vegetarian, gluten free etc) make sure you let us know so we can order you a special meal.
Tables are for 10 people – so get your friends together and make up a table and give us a list of who will be on it so we make sure you sit together.  If you don't have others to sit with, we'll put you on a table with other people from your class.  These nights are always great fun so make sure you get your ticket soon as it will sell out.  There are no ticket sales on the night.
SOCIAL DANCES with DJ RAY!
Our Sunday social dances with DJ Ray are proving to be a big success, so the Club has agreed to put them on until the end of the year – a huge thanks to everyone for your support!  They are held on the fourth Sunday of every month, and RAY plays all our favourite dance tunes including Rock n Roll, Line Dancing, Cha Cha, Swing and Rockabilly.
The next one will be on Sunday 23rd JUNE and they are held at ALBION PARK BOWLING CLUB, Taylor Road, Albion Park.    The time is 5 to 8.30pm, and they are FREE!!!   EVERYONE WELCOME – bring your family & friends! 
FUTURE DATES:   23 June;   28 July;  25 August;  22 September;   20 October. 
Please note the October one is on the third Sunday of the month as most people will be away at the Chromefest Festival on the fourth Sunday.
ASTON MARTINI'S AT THE OAKS
On Sunday 30 June, The Aston Martinis are playing at the Oaks Hotel at Albion Park (on the highway near McDonalds).  Time is 3pm – 6pm, and this event is FREE!  There's a dance floor, great bistro and the band is terrific.  It's a good idea to book a table for this one (ask to be in the main bistro area).   This band plays a fantastic range of Rock n Roll and Swing!
ROCK N ROLL NIGHT AT ALBION PARK BOWLS CLUB
On Saturday 29th June, Catch Fraze are putting on a Rock n Roll night at Albion Park Bowls Club.  Catch Fraze is a great duo playing a lot of fantastic dance songs!  This will be a great dance night to celebrate the release of their new CD.  Cost is $15 and includes one of their new CD's!    Should be a good night.  Tickets can be purchased by calling Connie on 0407 009 336.
50'S DANCE NIGHT
On Saturday 10th August, a dance night is being put on at the Bomaderry RSL Club.  There are two bands – Toni & the Rhythm Cats and Wes Pudsey & the Sonic Aces.  The cost is $20 and tickets are available by contacting Margaret & Richard on 0409 886 868 or email born2boogie@live.com.au

.    There are already around 15 people going from Footloose, so there'll be a group of our guys there – when you book, tell them you'd like to sit near the Footloose group. 
OCTOBER LONG WEEKEND EVENT
On the long weekend in October, Margaret & Richard from Born to Boogie Dance Studio on the south coast are putting on a weekend of dance, music, dance workshops and also a Whale Watching Cruise.  There will be a social dance on Friday 4th Oct, a 40's and 50's Dance Night with the Mr James Band on Saturday 5th Oct at Bomaderry RSL, and a whale watching cruise on the Sunday. 
Contact Margaret & Richard on 0409 886 868 or email born2boogie@live.com.au for more info. Tickets on sale July 1st.     
NSW STATE TITLES DANCE COMPETITION
A major dance competition – the NSW State Titles is on Saturday 10th August at the Greyhound Club at Yagoona (Sydney).  Geoff and I will be there as MC and adjudicator, so if you want to check some awesome dancing out, this is the place to do it.   Doors open 9am and the competition goes from 10am – 5pm.  
CALENDAR OF EVENTS
Sun 2 June:               MIDNIGHT DRIFTERS are on at Bulli Workers;  2.30pm;  FREE  
Sat 8 June:                 BACKLASH – Bulli Workers;  7.30pm
Fri 21 June:                BE BOP A LULA – Westside Rockers dance; The Builders Club;  $10
Sat 22 June:               DWAYNE ELIX & THE ENGINEERS – Bulli Workers; 7.30pm
Sun 23 June:             DJ RAY – Footloose social dance – Albion Park Bowls; FREE;  5 to 8.30pm
Sat 29 June:               JOHNNY & THE EASYRIDERS – Bulli Workers;  Free;  7.30pm
Sat 29 June:               CATCH FRAZE DUO – CD release; Albion Park Bowls;  $15
Sun 30 June:             ASTON MARTINI'S – The Oaks Hotel, Albion Pk Rail; Free;  3pm
Sun 7 July:                 MIDNIGHT DRIFTERS – Bulli Workers; Free;  2pm
Sat 13 July:                BACKLASH – Bulli Workers; free;  7.30pm
Sat 27 July:                RAVE ON – Footloose Dinner Dance; $55 ticketed event.
 For a comprehensive weekly gig guide, check Janine's Facebook page – Dancing the Gong!
CLASS TIMETABLE

WEEK COMMENCING 10th JUNE 2019

 COURSE STARTS

VENUE

TIME

STYLE

MON:

10 JUNE

Fraternity Club

6.30 – 7.30

Beginners 1 Rock n Roll

 
 

7.30 – 8.30

Beginners 2B Rock n Roll

 
 

8.30 – 9.30

Intermediate C Rock n Roll

WED

12 JUNE

Albion Pk Bowls Club

6.30 – 7.30

Beginners 1 Rock n Roll

 
 
 

7.30 – 8.30

Beginners 2B Rock n Roll

 
 
 

8.30 – 9.30

Intermediate C Rock n Roll

THURS

13 JUNE

Pt Kembla Collegians Club

6.30 – 7.30

Beginners STEP ROCK MODERN JIVE

 
 
 

7.30 – 8.30

Intermediate STEP ROCK MODERN JIVE

 
 
 

8.30 – 9.30

Intermediate B SWING LINDY
ADULT CLASS PRICES (kids under 16 half price)
WEEKLY PRICE

COURSE PRICE

ROCK N ROLL (Beg 1 & 2, Int)

(one night per week)

$12.00

$50/5 week course

SWING LINDY HOP (Int)

$12.00

$50/5 week course

STEP ROCK MODERN JIVE (Beg or Int)

$12.00

$50/5 week course

PACKAGE PRICES

ANY TWO STYLES

N/A

$80/5 week courses

ANY THREE STYLES

N/A

$120/5 week courses
NOTE:  No refunds or transfers on 5 week course prices
That's it for

this month!



Sue & Geoff Routh
Footloose Rockers Dance Studio
Ph:  0410 483 560
Facebook:  @FootlooseRockers